Ádám Kiss B. won the 1st Kalotaszeg Lead Fiddler Competition
3/08/2017
The Kalotaszeg Lead Fiddler Competition was organised for the first time 27-30 July within the framework of the Méra World Music Festival. Ádám B. Kiss, a former student of the Liszt Academy, came first among 9 contestants.
The competition – which welcomed fiddlers between 16 and 35 years of age, all active in the Táncház Movement and working to conserve the authentic Transylvanian folk music heritage – was conceived as the fruit of the collaboration of the Hungarian Heritage House and the Kalotaszeg Non-profit Organisation. Before the four-member jury, the nine contestants would perform a compulsory and an optional work, all together not lasting longer than 5 minutes. The compulsory part was to recall Kalotaszeg's own lead fiddler, Sándor "Neti" Fodor, while the second part of their performance had to reflect the work of any Kalotaszeg lead fiddler. The special prize of the competition, worth 7000 RON, went to Ádám Kiss Balbinat.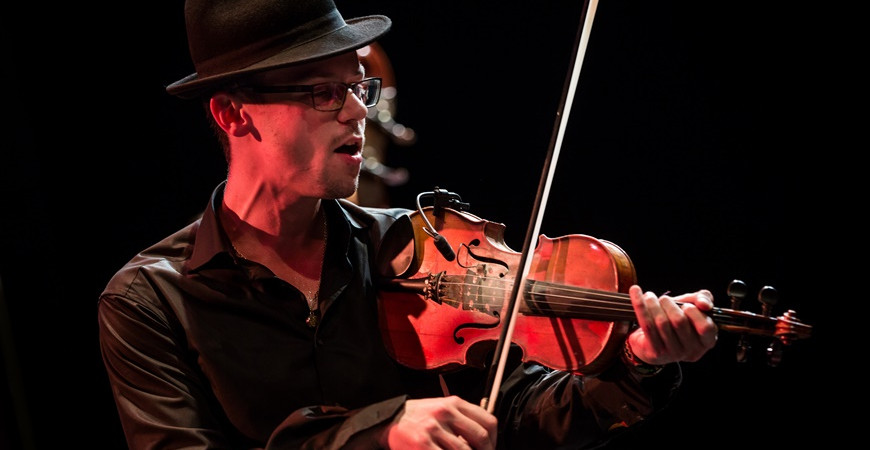 Photo: Liszt Academy / László Mudra
The young fiddle virtuoso was born in Sepsiszentgyörgy (in Romanian: Sfântu Gheorghe) in 1987 and started his violin education at the Kolozsvár (in Romanian: Cluj Napoca) music school. From the age of 13, he continued his studies in Budapest, and in 2007, he was admitted to the Department of Musicology at the Liszt Ferenc Academy of Music. From 2012, he was a student at the Sub-department of Folk String Instruments at the same institution. In 2014, he won the Junior Príma Award in the category "Folk Art and Public Education". Ádám B. Kiss is a founding member, violinist, violist and singer of the ten-year-old Gobé Band. The jubilee concert of the ensemble is to take place in the Solti Hall of the Liszt Academy on 26 September.
MTI/Liszt Academy
Tags