Cross-generational tribute paid to the memory of Ernő Dohnányi: the joint concert of the legendary Péter Frankl and the Kelemen Quartet
7/12/2017
The world-renowned pianist Péter Frankl and the Kelemen Quartet are playing the works of one of the most pivotal Hungarian composers of the 20th century in the Grand Hall of the Liszt Academy on 13 December.
The Liszt Academy's very own ensemble, the Kelemen Quartet consisting of outstanding musicians, is teaming up with the pianist Péter Frankl, who is now residing in London. The next concert of the series At home in the Liszt Academy will be a genuine feast commemorating Dohnányi. Péter Frankl highly commended for his splendid performances is one of those globally acclaimed musicians who graduated from the Liszt Academy and can be regarded as Dohnányi's "grandson" on the family-tree of pianists. He doesn't only spread the fame of the Hungarian piano school as a performing artist but also as a member of the academic staff of Yale University.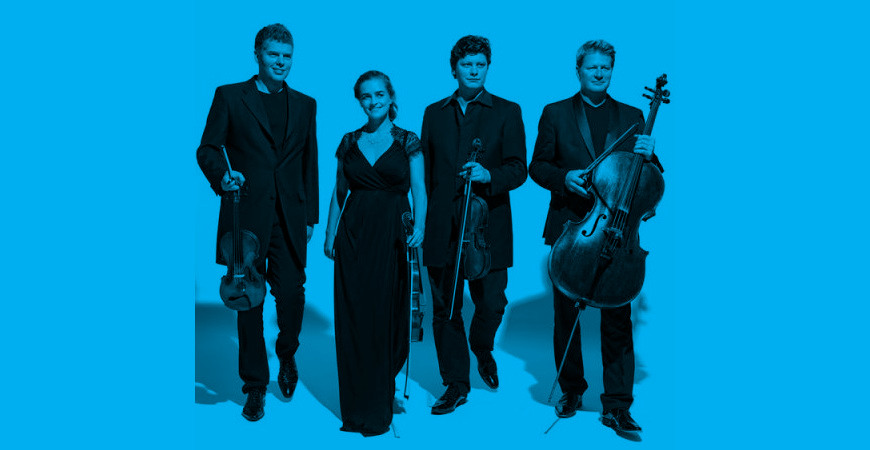 Kelemen Quartet. Photo: László Emmer
The concert programme is opened with the emblematic Piano Quintet in C minor, which earned even Brahm's recognition, followed by the Piano Quintet in Eflat minor composed in 1914 and also considered a masterpiece giving delight both to the performers themselves and the audience. The instrumental arrangement of the Sextet in C major written in 1935 is quite unconventional: the string trio and the piano unite with two wind instruments: the clarinet and the horn, now played by two excellent section leaders of the Budapest Festival Orchestra, Ákos Ács and Zoltán Szőke respectively.
Tickets for the concerts of the series At home in the Liszt Academy can also be purchased online:
Péter Frankl and the Kelemen Quartet – 13 December, 2017
Nils Mönkemeyer and the Kelemen Quartet – 16 January, 2018
Andreas Ottensamer and the Kelemen Quartet – 24 Feburary, 2018
Aleksandar Madžar and the Kelemen Quartet – 12 April, 2018

Since its foundation in 2010, the Kelemen Quartet has been stacking success upon success: has been giving concerts all over the world and has collected numerous internationally recognised awards. The ensemble has taken to the stages of many a grand concert hall, such as the Carnegie Hall, the Musiverein, the Philharmonie Berlin, and they are returning guests of the Wigmore Hall in London, the Concertgebouw in Amsterdam and the Teatro Fenice in Venice. Within the framework of the five-part concert series lasting until April, the string quartet wishes to show the diversity and multifacetedness lying in this chamber music formation besides pleasing the audience with a number of exciting compositions.
Barnabás Kelemen, Katalin Kokas, Gábor Homoki and László Fenyő are closely connected to their alma mater. They selected the most excellent of Hungarian and international soloists for the series At home in the Liszt Academy.