"Inquisitiveness keeps one youthful"
15/11/2017
Violinist and conductor (sometimes both at the same time), viola player and chamber musician, teacher and philanthropist… Born in Lithuania but resident since childhood in Vienna, Julian Rachlin is one of those rare musician personalities whose diversity and energy is difficult to formulate in words. As one of the most in-demand artists of our day, he takes to the stage of the Grand Hall on 22 November at the head of English Chamber Orchestra, which boasts a tradition going back TO close on 60 years. He conducts Beethoven's Symphony No. 7 and Violin Concerto, the latter also as solo instrumentalist. In this interview with Concert Magazine, he speaks about his multifaceted activities, the musical upbringing of young people, Bartók, and the role of music in public life.
I believe that the Beethoven Violin Concerto is your favourite concerto. What is your association with this piece?
Beethoven's Violin Concerto is the king of the genre, the highest pinnacle that a violinist can climb. However, its incredible complexity lies precisely in its simplicity: it is full of scales, runs, arpeggios; the music is extremely pure and simple. This 'silvery' part represents the greatest challenge for violinists because the soloist cannot hide behind the music's smooth exterior. At the same time, we are talking about a major symphonic work and it is difficult to find the ideal performance style for it, as well as the balance between Classicism and Romanticism. It is possible to play Beethoven in many different ways, and it is a huge challenge for us musicians to find from among the infinite possibilities that particular interpretation in which we truly believe. One lifetime is simply not enough in which to discover all the secrets of Beethoven's music.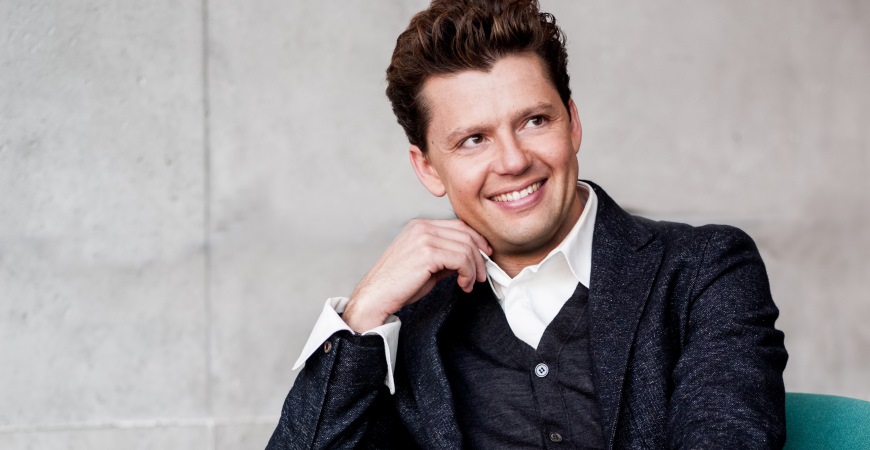 Julian Rachlin.
You frequently work together with English Chamber Orchestra.
English Chamber Orchestra are one of my favourite orchestras. I maintain close contacts with the musicians and this is a huge benefit during performances. We really know each other's style, we understand the wishes and reactions of each other, and this creates an opportunity for us to go into the deepest recesses of the music. I've learnt a huge amount from the orchestra, because a conductor has just as much to learn from the musicians as they do from him.
You frequently conduct as a soloist. What sort of feeling is it to play the same work with a conductor?
I feel that it is a great gift to be able to approach concertos from both directions. Despite the fact that I play and conduct at the same time, I do pay far greater attention to the orchestral parts surrounding the solo. I hear the second bassoon, the clarinet, the kettledrum. It is a totally different though equally exciting experience o play the same piece with a conductor. Earlier, I didn't restrict my attention solely to my own part, but ever since I have been conducting as well, I find I am far more interested in how the conductor rehearses, what his concepts are, how he interprets the piece. Inquisitiveness keeps one youthful. I find the various roles – the violin, viola, teaching, conducting, playing chamber music – hugely inspiring. I never consider myself to be exclusively a violinist. As far as I am concerned, the violin is not the most important: my instrument is merely a tool for me to experience music more profoundly.
This spring you appeared in Budapest as soloist in Bartók's Viola Concerto, but you have also played his string quartets on numerous occasions. What does Bartók's music mean to you?
Bartók is without doubt the most brilliant Hungarian composer. I love the Viola Concerto, and of his violin concertos my favourite is probably the first. Aside from works by Beethoven and Shostakovich, his string quartets are the most significant in the genre. In the near future I intend to discover his orchestral works as well, first and foremost the Miraculous Mandarin and the orchestral Concerto. It was an honour and an uplifting experience to play Bartók in Hungary, one could sense in the orchestra that they truly understand and have a feeling for this music. Of course, it is not only Hungarian orchestras that are capable of playing Bartók well, just as Beethoven is not only finely played by Austrian and German ensembles.
As well as your stage career, you are active as a UNICEF ambassador. Why is this important for you?
It is in the lifeblood of every person to give – this is only natural for me. If somebody is successful at something, then they have a duty to share it with those to whom it is not given. I consider myself to be extraordinarily lucky to be able to make a living from my passion, I can travel the world, and I feel that through my activities with UNICEF I can repay my good fortune. I joined the programme seven years ago after receiving an invitation from my close friend Sir Roger Moore, since when I have tried to participate in it to the best of my ability. Every year I arrange a large project somewhere in the world, when I try to bring together and enrich with musical experiences the lives of young people who otherwise would not have such opportunities.
You not only support gifted people but you also consider it your task to raise the audience of the future. How can young people be brought closer to classical music?
It all depends how active we are in this and what part we are prepared to take in order to involve children in the world of music. The only way of being effective among the generation brought up on the Internet is if we are extremely active ourselves, because we have to take up the challenge posed by the astounding speed of information flow, and we have to exploit its inherent opportunities. If we do not do this, then we face the risk that quite soon concert halls will be empty and ever fewer people will have an interest in classical music. It is precisely because of this that I try to be active not only in embracing and teaching highly gifted young artists, but more generally all young people who soon can become adherents of classical music and adults attending concert programmes.
Zsófia Hózsa
Tags