Paradise is just a few steps away
23/03/2018
The path of a talented artist is often shaped by fortune and momentous encounters, but it also depends on an education system that must recognize and develop especially gifted students. We interviewed the associate professor and head of the Violin Sub-Department of the Liszt Ferenc Academy of Music, Vilmos Szabadi, on these two basic components of a music career.
As a young violinist, you too walked a long and sometimes rather arduous path to success. In retrospect, what do you think are the key elements of talent development?
First of all, you need two people who have greatness in the same area, so if you have a highly gifted child, the presence of a professor with a keenly observant eye who can discern genuine talent is indispensable. You also need a school system that will educate the young musician. On top of these elements, you need a stable social background to provide the support and inspiration for the persistent hard work that is required. Even with all these in place, you still need certain critical junctures that encourage talent and sustain it in the future. In my case, all these preconditions were satisfied, though I would have been happy to reach the final decisive shift in my career somewhat earlier; then I wouldn't have been a finalist at the International Jean Sibelius Violin Competition at the age of 25.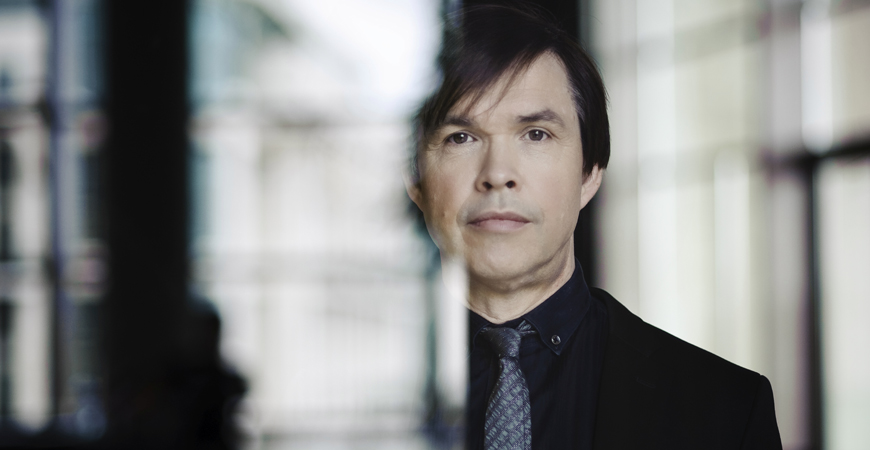 Vilmos Szabadi. Photo: Árpád Kurucz
Is this considered late in the career of a young musician?
Today, students between fifteen to eighteen years of age can be 'managed' into winning competitions of the same high standard. Though at this tender age youngsters may face a lot of problems, they are able to adjust. Unfortunately, those who go through this phase later will often be left behind. But everyone has their individual stories. Personally, I was able to make up for lost time and missed opportunities thanks to those fortunate encounters that launched my career.
In your more than three-decade long career, you have been to many a prestigious concert hall in Europe and across the world. You have collaborated with such legendary artists as Plácido Domingo and Sir Georg Solti, and have even played the Stradivarius of the Spanish Royal Family. Which one of these would you regard as a momentous encounter?
At the Liszt Academy, I got to know Professor Ferenc Halász and his novel teaching method. Thanks to this, I won the Hungarian Radio and the Jenő Hubay Violin Competitions. Then Sir Georg Solti invited me to take to the stage of the Royal Festival Hall in London, and then along came the aforementioned Sibelius Violin Competition. Finally, I have been in a continuous and exclusive working relationship with Hungaroton Records, the production company of more than forty CD recordings of mine, and in January, another three Mozart titles will be released. I believe that opportunities go to those who work hard. In Hungary I see a lot of wonderfully gifted young artists. There is a determination in them, but somehow many often don't seize the opportunities that arise. These young people are not yet fully cognizant of their own ambitions, and they must realize that they won't be properly acknowledged unless they have achievements under their belts.
It is quite natural that successful performances and awards must be included in the portfolio of a gifted musician. What are the components that are, even in this digital age of ours, still essential in a musician's life?
When we come onto the stage, it is visible how much our souls are charged with emotions, whether we comprehend the emotional message of the composer, and whether we are familiar with the background and context of the piece and the reasons for its existence. These factors never change. It requires lexical knowledge as well as the love and service of the performed work. In effect, it is a priestly vocation. No digital technology can compensate for the power of profound analysis, for the transcendental communication between composer and performer, or for the consciously produced tones. As far as life behind the scenes is concerned, neither now nor in the past could anyone turn into an authentic artist without speaking with others, without a family and an exemplary environment. We build our excellent concert halls in vain if there are no music educators that can take care of and nurture the outstanding artists of the future.
Do you mean that music education should be renewed and reformed?
There is always a fashionable education trend that we want to follow, even though we have the traditions of the old Hungarian music school at our disposal. Why don't we turn to Hubay or Kadosa for advice? Young talents should be better nurtured; the Liszt Academy used to offer a programme specifically aimed at these talented youngsters, whereas today we call everything a 'Master's programme', although it may not be the right path for each student. Of course, it is very hard to institutionalize talent, but we should be more upright towards ourselves and our students. In my opinion, everyone should be provided with the opportunity to become a genius; but if someone isn't quite as gifted, it is our responsibility to show them an alternative path to success. Everyone can be successful, but either they don't see the road or their schooling doesn't quite take them there.
Talking of instruments, to what extent do you think the quality of an instrument influences the career of its highly talented user?
It fundamentally determines it. In the Singapore International Violin Competition, for instance, all finalists were loaned a master-crafted violin worth one million US dollars for a period of three years. During this time, they will have no difficulty in showing their gift to the world. No matter how talented a musician is, with a mediocre instrument they can't achieve success. This is a basic requirement which can be expressed in terms of money, and we, Hungarians, ought to invest more into this material issue. In the same way we build concert halls, we should support talents. Yet I believe we are doing well: it would take only a few steps to reach or even exceed 'Paradise', or in other words, the Golden Age of the Hubay School.
Anna Unger
Tags