The image spot of the Bartók World Competition and Festival won Silver Dolphin at the Cannes Corporate Media & TV Awards Festival
2/10/2017
The image spot promoting the Bartók World Competition and Festival - held between 9 and 17 September – can now boast four international awards. This time the creators of the image spot commissioned by the Liszt Academy were recognised with the prize of the Cannes Media & TV Awards.
"At the Liszt Academy, the highly successful and professionally acknowledged Bartók World Competition and Festival came to an end just over a week ago. The Bartók image spot did not only help us to engage the participants and the audience but it also significantly contributed to building up a new brand, the Bartók World Competition" – as it was put by the Vice President of Education of the Liszt Ferenc Academy of Music, Dr Csaba Kutnyánszky, following the award ceremony in Cannes. The Vice President also expressed his gratitude to Imre Szabó-Stein, who was the mastermind and one of the actual creators of the film, as well as to the spot's director, Dávid Géczy and the director of photography, Balázs Dobóczy.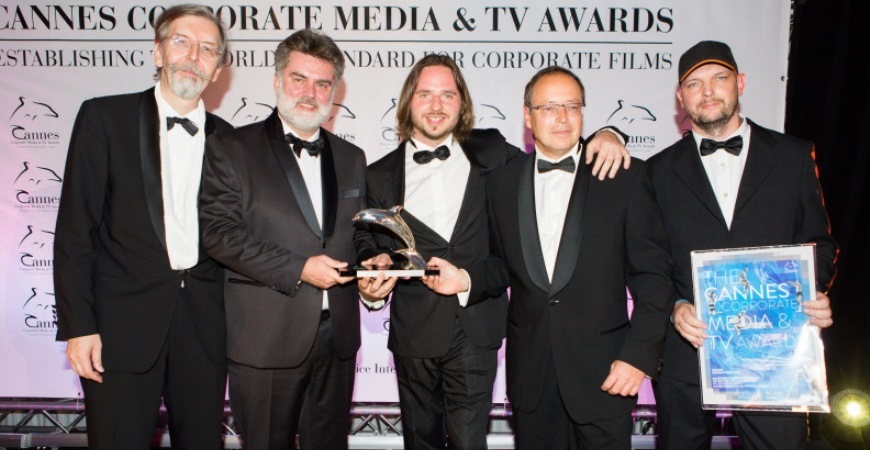 On the award ceremony: Dr. Csaba Kutnyánszky, Deputy Rector of the Liszt Academy, and the creators of the film: Dávid Géczy, Imre Szabó-Stein and Balázs Dobóczy.
Photo: Felipe Kolm
The Cannes Media & TV Awards has been annually honouring the world's finest corporate films, online media and TV productions from all over the world since 2010. The award ceremony usually takes place in Cannes, while the festival itself is based in Vienna.
The image film first presented in the autumn of 2016 has won three other awards so far: the Silver Hugo of the 53rd Chicago International Film Festival, the Silver Blade Award and in the category 'Communication Design 2017 it was honoured with the Red Dot Award.
In the 45-second spot film, the camera accompanies a young musician leaving the Liszt Academy who is listening to Bartók's original recording of Allegro Barbaro. The film plays and contrasts timelines, real and imaginary images and finally, by expanding all limits until infinity the protagonist encounters Bartók himself, and for a fracture of a second, the composer even glimpses at us from the screen.
Since December, 2016, the spot has been available to watch on youtube, and has been viewed by about 45 000 visitors so far.