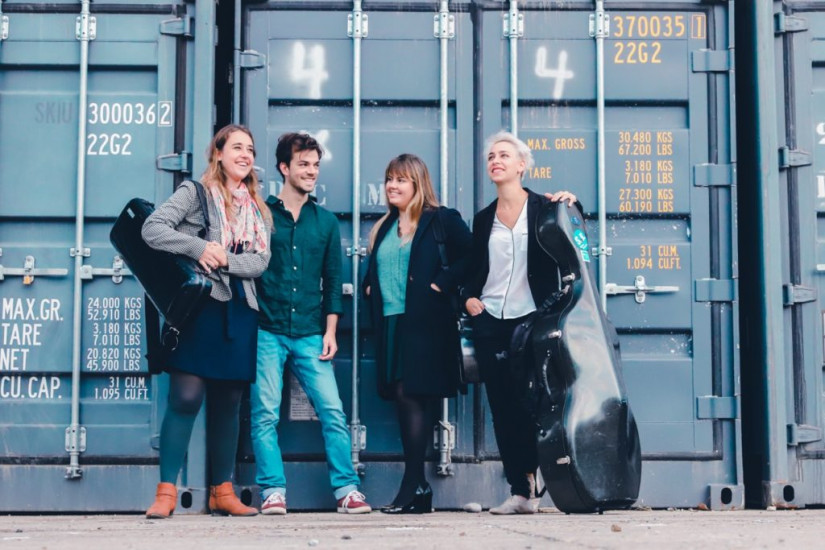 15 February 2020, 19.00-21.00
Solti Hall
Quatuor Métamorphoses & Kruppa String Quartet

Presented by Liszt Academy
Concert of ECMA (European Chamber Music Academy)
Program change
Performer change
Beethoven: String Quartet in C major, Op. 59/3 ('Razumovsky')
Mendelssohn: String Quartet No. 6 in F minor, Op. 80
Quatuor Métamorphoses: Mathilde Potier, Rachel Sintzel (violin), Jean-Baptiste Souchon (viola), Alice Picaud (cello)
Kruppa String Quartet: Oszkár Varga, Éva Osztrosits (violin), András Kurgyis (viola), Barnabás Baranyai (cello)
Famous festivals and institutions are numbered among the members of the European Chamber Music Academy (ECMA), which has been operating for more than 15 years. The Liszt Academy, which has given the genre world-famous performing ensembles and which cultivates chamber music as an important area even today, also joins the masterclass of the organization aimed at nurturing chamber music traditions and introducing new formations. We have the chance to listen to a pair of classics of the chamber repertoire, in a youthfully fresh interpretation formed following intense workshop efforts by a French and a Hungarian quartet. Quatuor Métamorphoses were set up in 2016 from students of the Paris Conservatoire; in their composition they embody the essence of string quartet playing since, through the harmonization of the individual characters of the members, each with a different musical background, they achieve an artistically unified, and precisely because of this all the more exciting, common denominator. ▪ The Korossy String Quartet, made up of students of the Liszt Ferenc Academy of Music, are an even younger formation, which drew attention to themselves in 2019 when they displayed astonishing skills by becoming category winners at the Weiner Leó National Chamber Music Competition.
Presented by
Liszt Academy Concert Centre
Tickets:
Admission to the concert is free. Tickets can be claimed at the Ticket Office of the Liszt Academy one month before the concert.