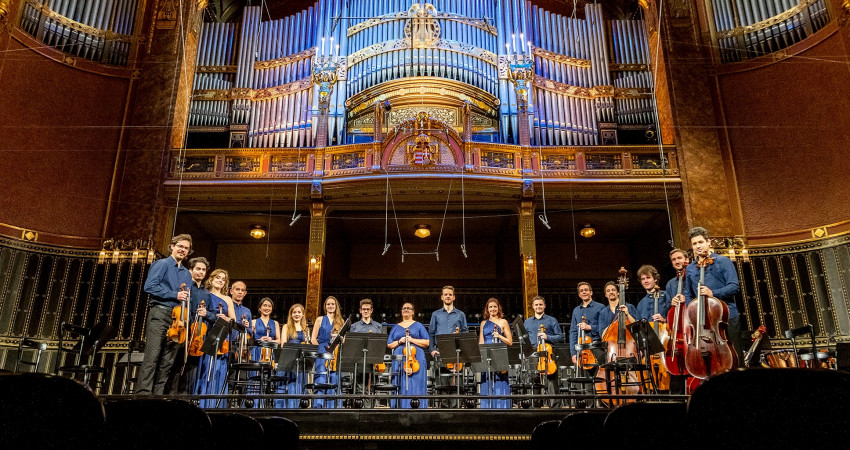 21 February 2020, 19.30-22.00
Grand Hall
David Grimal & Anima Musicae Chamber Orchestra
Mozart, the Violin virtuoso
Mozart: Violin Concerto No. 1 in B-flat major, K. 207
Mozart: Violin Concerto No. 2 in D major, K. 211
Mozart: Violin Concerto No. 3 in G Major, K. 216
Mozart: Violin Concerto No. 4 in D Major, K. 218
Mozart: Violin Concerto No. 5 in A major, K. 219
David Grimal (violin)
Anima Musicae Chamber Orchestra (artistic director: László G. Horváth)
Mozart's five violin concertos will be played by David Grimal and Anima Musicae Chamber Orchestra in this evening.
These pieces are significant in the life-work of the brilliant composer, what is more, his violin concertos were born within a year. Connecting in their construction, these masterpieces reflect many different characteristics, colours and moods. Over the virtuosity, Mozart's violin concertos are at the peak of chamber music.
With a name meaning the soul of music, Anima Musicae Chamber Orchestra has signalled from the very first moments its deep commitment to performing and has become one of the most dynamically developing, prize-winning young ensembles active not only in their homeland, Hungary, but on international stages as well. They have received the prestigious title "National Youth Orchestra" for the years 2018-2020.
The guest artist of the event is an outstanding soloist from Paris, who really committed to chamber music; his ensemble: "Les Dissonances" shows remarkable success with his collaboration. David Grimal persues an international career as a solo violinist, which has seen him performing regularly over the past twenty years in the world's leading classical music venues and with prestigious orchestras such as the Orchestre de Paris, Orchestre Philharmonique de Radio France, Russian National Orchestra, Chamber Orchestra of Europe, Berliner Symphoniker, among others...
Presented by
Anima Musicae Chamber Orchestra
Tickets:
HUF 2 000, 3 500, 4 900, 6 900