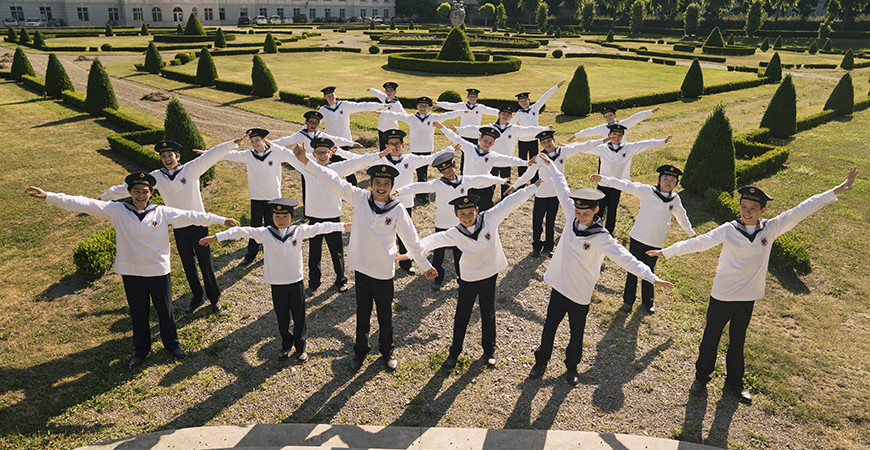 27 March 2020, 19.30-22.00
Grand Hall
Masters of Vocal Music
Wiener Sängerknaben

Presented by Liszt Academy
Mare nostrum
Time change
Ave, maris stella – Marian hymn from the 9th century
Gerald Wirth: Carmina Austriaca – Ave nobilis, venerabilis Maria
Bruck: Magnificat
Viadana: Exsultate iusti – motet
Victoria: Officium hebdomadae sanctae – Tenebrae factae sunt
Charpentier: Super flumina Babylonis
Brahms: Regina coeli laetare, Op. 37/3
Mendelssohn: Wasserfahrt, Op. 50/4
Salinas: Romance del Conde Claros
Banchieri: Capricciata a tre voci
Banchieri: Festino nella sera del Giovedi grasso avanti cena, Op. 18 – Contrappunto bestiale alla mente

intermission

Josef Strauss: Matrosen-Polka, Op. 52 (transcription by Gerald Wirth)
O more duboko – Croatian Love Song (transcription by Gerald Wirth)
Kalinichta – Greek Folk Song
Üsküdar'a gider iken – Turkish Folk Song (transcription by Gerald Wirth)
Wa habibi – Lebanese hymn for Good Friday (transcription by Gerald Wirth)
Nurit Hirsh: Oseh Shalom bi-mromav – Israeli Prayer (transcription by Gerald Wirth)
Qoum Tara – Algerian qasida
Monreal: Clavelitos
Di Capua–Mazzucchi: O sole mio
Johann Strauss II: Wo die Zitronen blüh'n – Waltz, Op. 364
Josef Strauss: Auf Ferienreisen – Sperl-Polka, Op. 133 (transcription by Gerald Wirth)
Wiener Sängerknaben
Conductor: Manolo Cagnin
The singing boys of Vienna first appeared in Budapest more than 90 years ago, in 1928; since then the globetrotting children's choir, after many changes of generation, have become 'old favourites' of Hungarians thanks to their records, TV appearances and concert performances. Mare nostrum, that is, our sea, is how the Romans called the Mediterranean, and the 2020 tour of Wiener Sängerknaben (Vienna Boys' Choir) offering a rich, varied and carefully thought-out programme, also bears this name. They touch on a host of peoples, cultures and religions, launching with a Gregorian hymn to Mary before circumnavigating the Mediterranean with a Spanish song, Italian hit, Israeli and Lebanese melodies, all performed in the choir's hallmark cristal clearvoice.
Dear Audience,
We regret to inform you that the 27 March 2020 date of the Wiener Sängerknaben has been changed! The concert will be held 4 October 2020 7:30 pm at the Grand Hall with the same programme! Tickets and season tickets purchased for 27 March 2020 are valid for 4 October 2020.
Thank you for your kind understanding!
Presented by
Liszt Academy Concert Centre
Tickets:
HUF 2 900, 4 300, 5 100, 5 900
Season ticket:
Similar events:
Masters of Vocal Music
Simply Classical
Grand Hall