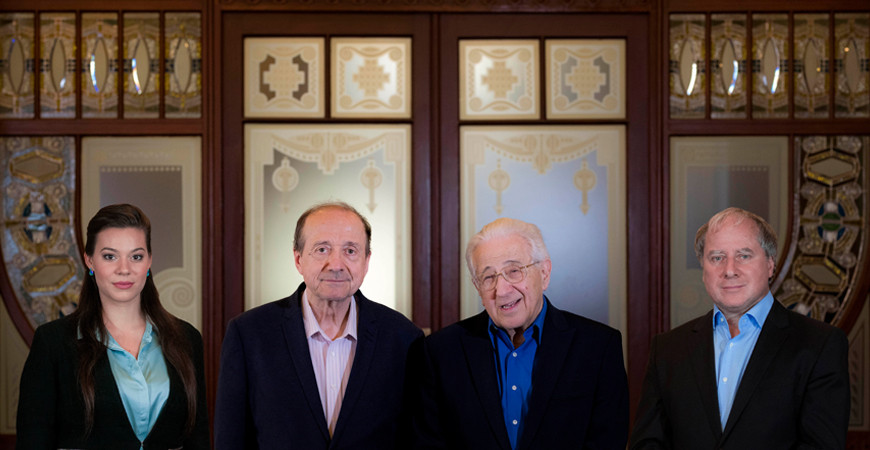 23 May 2020, 19.30-22.00
Grand Hall
Chamber Music - Tuned for Grand Hall
Péter Frankl, Miklós Perényi, András Keller & Lilla Horti

Presented by Liszt Academy
Time change
Beethoven: Variations in G major on Wenzel Müller's Theme 'Ich bin der Schneider Kakadu', Op. 121a
Shostakovich: Seven Romances on Poems by Alexander Blok, Op. 127
Dvořák: Piano Trio No. 3 in F minor, Op. 65
Lilla Horti (soprano), András Keller (violin), Miklós Perényi (cello), Péter Frankl (piano)
Three leading figures of Hungarian chamber music, Péter Frankl, who although over 80 is still highly active, Miklós Perényi and András Keller, are joining forces for a performance of piano trios. Their programme comprises three composers and three kinds of music. Beethoven's Kakadu Variations contains the vigour of the young master and his late style as well because the trio published in 1824 was probably written at the beginning of his career but reworked and completed  towards the end of his life. At the time Dvořák composed his dramatic and impulsive Piano Trio in F minor he had largely put aside the Slav national tone that until then had been his hallmark, instead searching for new ways, primarily by turning towards the style of his contemporary, Brahms. In the middle number, the dazzlingly talented young soprano Lilla Horti joins the ensemble for a performance of the meditative, melancholy yet translucently beautiful song cycle of Shostakovich written in 1967.
Dear Audience,
We regret to inform our audience that the 23 May 2020 date of the Chamber Recital of Péter Frankl, Miklós Perényi, András Keller and Lilla Horti has been changed! The concert will be held 15 October 2020 7:30 pm at the Grand Hall with the same programme! Tickets and season tickets purchased for 23 May 2020 are valid for 15 October 2020.
Thank you for your kind understanding!
Presented by
Liszt Academy Concert Centre
Tickets:
HUF 5 300, 6 500, 7 700, 8 900