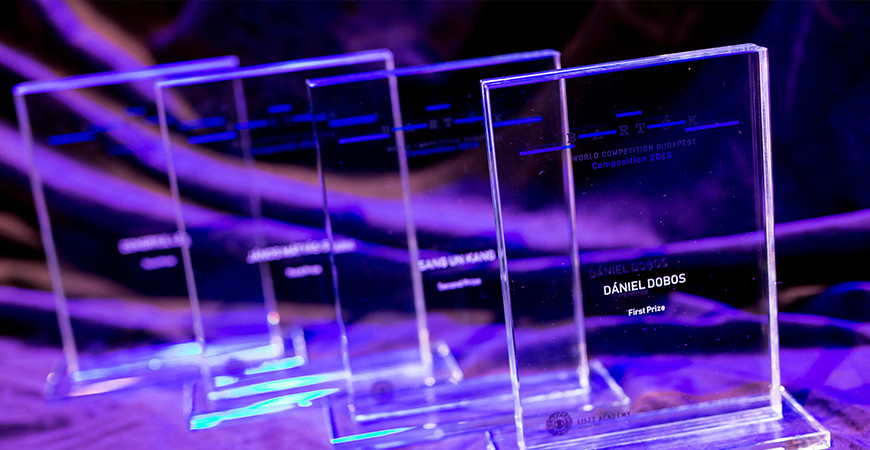 28 November 2020, 19.00-21.00
Solti Hall
Bartók World Competition - Composition Competition 2020

Presented by Liszt Academy
Award Ceremony & Gala Concert
Streamed only
Mozart: String Quartet No. 16 in E-flat major, K. 428 – 1. Allegro non troppo
Accord String Quartet: Péter Mező, Csongor Veér (violin); Péter Kondor (viola); Mátyás Ölveti (cello)
Beethoven: String Quartet No. 1 in F major, Op. 18/1 – 1. Allegro con brio
Kökény String Quartet: Eszter Kökény, Csenge Dósa (violin), Fülöp Görbicz (viola), Máté Tomasz (cello)
Bartók: String Quartet No. 3, BB 93
Korossy String Quartet: Csongor Korossy-Khayll, Kristóf Tóth (violin), Éva Osztrosits (viola), Gergely Devich (cello)
Kim Jonghoon: Papel (Babel)
Kökény String Quartet: Eszter Kökény, Csenge Dósa (violin), Fülöp Görbicz (viola), Máté Tomasz (cello)
Noh Seung Ju: Caveman
Accord String Quartet: Péter Mező, Csongor Veér (violin); Péter Kondor (viola); Mátyás Ölveti (cello)
Okamoto Shinsuke:
Calligraphy for Air and Ground
Korossy String Quartet: Csongor Korossy-Khayll, Kristóf Tóth (violin), Éva Osztrosits (viola), Gergely Devich (cello)
Host: Ádám Bősze
Live stream will be available of the Gala Concert of the composer competition, which attracted a record number of candidates all over the world. 
This is the night when all is revealed - the excitement of long months is condensed in the Solti Hall of the Liszt Academy on the occasion of the Gala Concert of the composers' competition of the Bartók World Competition. The members of the jury are the only ones to know who the winner is: the audience, the performers, and the competitors will only learn who composed the best string quartet for the Bartók World Competition in 2020 when the results are announced. Thus the programme is a surprise, works deemed to be the best will be performed on stage. The performers - the Korossy Quartet, the Kállai Quartet and the Kökény Quartet - guarantee that we will be in for an unforgettable evening should the excitement of the competition not suffice.
Presented by
Liszt Academy Concert Centre
Tickets:
Free tickets can be claimed at the website or at the Ticket Office of the Liszt Academy.