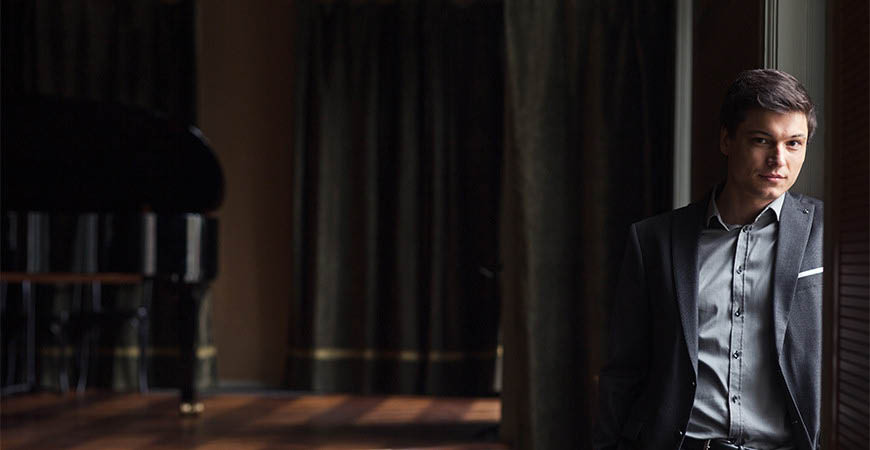 9 April 2021, 19.30-21.00
Grand Hall
Black and White Colours
János Palojtay

Presented by Liszt Academy
Songs Without Lyrics
Streamed only
Chopin: Barcarolle, Op. 60
Mendelssohn: Lied ohne Worte, Op. 30/6 ('Venetianisches Gondollied')
Mendelssohn: Lied ohne Worte, Op. 102/5 ('Kinderstück')
Mendelssohn: Lied ohne Worte, Op. 19b/2
Mendelssohn: Lied ohne Worte, Op. 38/6 ('Duetto')
Schumann–Liszt: Liebeslied ('Widmung')
Liszt: 12 Schubert Songs – 2. Auf dem Wasser zu singen, 3. Du bist die Ruh', 8. Gretchen am Spinnrade ('Meine Ruh' ist hin')
Rachmaninov: Fourteen Romances, Op. 34 – 14. Vocalise (transcription by Zoltán Kocsis)
Kreisler–Rachmaninov: Liebesleid
INTERMISSION
Bartók: Fifteen Hungarian Peasant Songs, BB 79
Albéniz: Chant d'Espagne, Op. 232
János Palojtay (piano)
Songs without lyrics? An apparently contradictory title yet it refers to an existing genre with which it would be possible to fill not one but numerous concerts. Short, lyrical piano pieces became favourites during the age of Romanticism. In style, they greatly resembled songs. The genre took form in the workshop of Felix Mendelssohn-Bartholdy, from whom we get the expression Lieder ohne Worte, that is, songs without words. However, the concert interprets this facet of music even more broadly: we hear piano arrangements of genuine songs that had lyrics, works with titles that refer to songs, although they never actually had lyrics, piano arrangements of folk songs and even a song that was written for a lyric-free vocal part. All these are interpreted by pianist János Palojtay, who graduated from the Liszt Ferenc Academy of Music in 2011, and then in 2012 debuted at the Budapest Opera under the baton of Christopher Hogwood, since when he has made numerous appearances with Hungarian orchestras at, for example, Müpa Budapest and the Liszt Academy.
Presented by
Liszt Academy Concert Centre
Supporter:
This concert was supported, in line with the Government decree 1290/ 2020. (VI.5) related to cultural institutions, in order to ease the economic difficulties caused by the Covid19 pandemic.