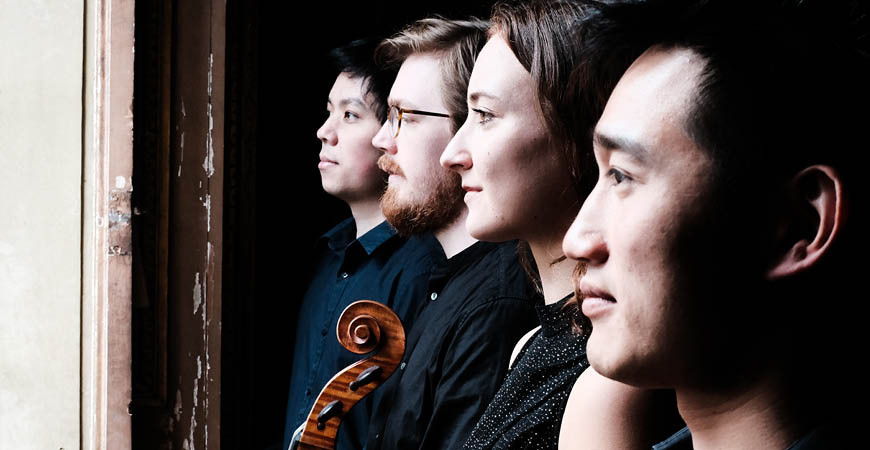 27 April 2021, 19.00-21.00
Solti Hall
Four by Four 2021
Simply Quartet

Presented by Liszt Academy
Cancelled
Haydn: String Quartet No. 64 in D major, Hob. III:79
Bartók: String Quartet No. 6, BB 119

INTERMISSION

Mendelssohn: String Quartet No. 4 in E minor, Op. 44/2
Simply Quartet: Danfeng Shen, Antonia Rankersberger (violin), Xiang Lu (viola), Ivan Valentin Hollup Roald (cello)
First Viennese School, Romanticism, 20th century. Simply Quartet, founded in Shanghai in 2008 and renewed ten years later, since when they have been based in Vienna, select a work by a key figure from each of these music history periods. Haydn's string quartet series composed for Count Erdődy and awash in amazing musical ideas opened new doors in the story of the genre by exploiting to the maximum the potential afforded by the four instruments – the part of the cycle performed here is famed, among other things, for its achingly beautiful second movement. Mendelssohn's String Quartet in E minor, an out-and-out Romantic work, dates from a good 40 years later. Its 'singing' melody enchants the listener. Bartók's final quartet was completed around a century later, in 1939, and it now ranks as a classic of the repertoire thanks to its masterful construction, development and variety.
Dear Audience,
The concert of Simply Quartet announced on 27 April 2021 will be held on 11 February 2022.
Thank you for your understanding!
Presented by
Liszt Academy Concert Centre