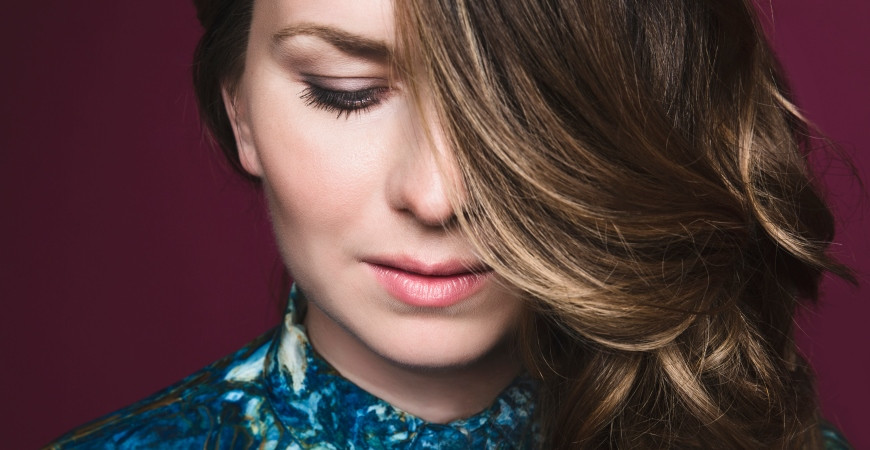 17 November 2021, 19.00-21.00
Solti Hall
Jazz it!
Júlia Karosi, Kristjan Randalu & Gábor Juhász

Presented by Liszt Academy
Karosi Júlia: Inner Voice
Weill: Four Songs by Walt Whitman – 1. Beat! Beat! Drums!
Fúvom az énekem – Hungarian folk song transcription
Kodály: Epigrams – No. 7: Cloud, No. 8: Dream
Kristjan Randalu: Someday Once Again
Bartók: Bluebeard's Castle, BB 62 – Prologue
Bartók: Mikrokosmos, BB 105 – No. 92: Chromatic Invention (2)
Bartók: Romanian Folk Dances, BB 68 – 3. Pe loc (Topogó)
Bartók: Twenty-seven Two- and Three-Part Choruses, BB 111 – Bánat (The Sorrow of Love)
Bartók: Mikrokosmos, BB 105 – No. 115: Bulgarian Rhythm (2)
Bartók: Mikrokosmos, BB 105 – No. 113: Bulgarian Rhythm (1)
Gadó Gábor: Greetings from the Angel
Karosi Júlia: Without Dimensions
Júlia Karosi (vocals)
Kristjan Randalu (piano)
Gábor Juhász (guitar)
A remarkable formation: three musicians all coming from different music backgrounds yet able to perform in total harmony. Júlia Karosi is a frequent guest at top Hungarian and international venues. As a performer, the jazz singer coming from a classical music background offers tasteful takes on evergreens by Gershwin and Cole Porter but she is similarly an aficionado of the oeuvre of Bartók. She has also appeared as a composer and is associated with many prizes and albums. Gábor Juhász is one of Hungary's great jazz guitar personalities, and has worked on several successful albums as composer, orchestra conductor, sound engineer and guitarist. His favourite configuration is the trio but the public has also seen him in duos and larger jazz ensembles. Foreign guest at this recital is the Estonian-born Kristjan Randalu, who was raised in Germany and completed studies in Stuttgart, London and New York. Since then, he has participated in 40 albums and was nominated for a Grammy in 2006. Their programme embraces songs from two CDs by Júlia Karosi, Hidden Roots and Without Dimensions, plus excerpts from Bartók's Microcosmos.
Presented by
Liszt Academy Concert Centre
Tickets:
HUF 2 500
Concert series: