kamara.hu 2019 – Journey by Moonlight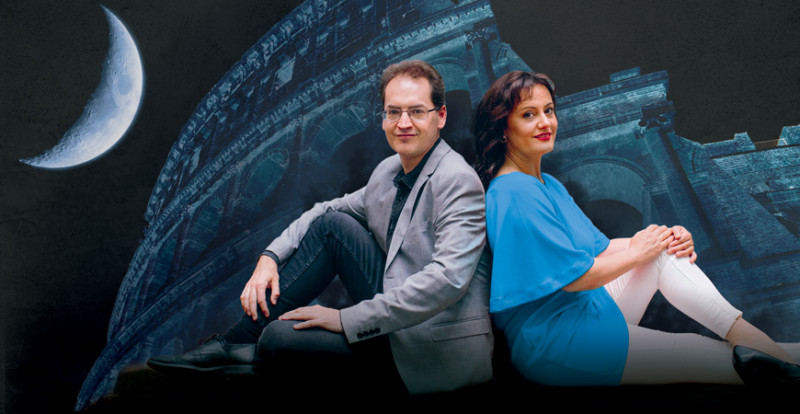 Izabella Simon and Dénes Várjon pianists, artistic directors of kamara.hu 
Kamara.hu for the fifth time in 2019! The artistic directors of the festival, Izabella Simon and Dénes Várjon and their musician friends will be centred around Antal Szerb's novel, Journey by Moonlight that is about the most exciting questions of the soul that is present in everyone. "On the train, everything seemed fine."- starts off Antal Szerb. One sentence, yet it exhibits several key motives of the work: travelling, nostalgy, desire, change, mortality, crisis, but also the thought of death. It is excellent material for a classical music festival. Izabela Simon and Dénes Varjas shared this view: they organised the programme of kamara.hu around the peculiar story of Mihály. Apart from the initial associations from the title and the thoughts behind the first sentence the works are also linked to Italy, the night and of course to love.
The four-day event arching from Bach to Kurtag, harp solos to choir, from music to literature again features national and international performers well accustomed with the artistic directors. Besides the well-known names from earlier, you can hear Klára Kolonits, Máté Szűcs, Jean-Guihen Queiras, Orsolya Kaczander, Beatson Alasdair, the Kuss Quartet and the Cantemus Children's Choir for the first time in the course of kamara.hu. Chamber music concerts will again be accompanied by literature discussions and with Izabella Simon's children's concert.
In the event of the simultaneous purchase of tickets for two separate concerts within the same series, a 10% discount applies, in the event of three separate concerts, there is a 15% discount, of four separate concerts, a 20%, of five separate concerts, a 25%, while in the event of six separate concerts, there is a 30% discount.