Japanese imperial princess calls art education at the Liszt Academy of Music remarkable
30 September 2019
Imperial Princess Kako visited the Liszt Academy of Music on Monday, where following a short walk and a mini-concert by some Japanese students, she talked enthusiastically about the special features of the main building and the education there.
The nephew of the ruler of the Far Eastern country was on her official visit to Hungary, celebrating the one hundred and fiftieth anniversary of diplomatic relations between Hungary and Japan. The 24-year-old Princess Kako spent an hour in the main building of the Liszt Academy of Music, where Dr. Andrea Vigh, President of the Academy showed her around, accompanied by representatives of the institution. The high-level guest was delighted to peruse the ornaments in the foyers, the Grand Hall and the Solti Hall in the historical Liszt Ferenc Square building. The princess described the spectacular elements of the main building as magical, among others the exquisite mosaic and the dazzling fresco, as well as the rich gilding and intricate symbolism of the Grand Hall. It is interesting to note that the princess is well acquainted with Zsolnay ceramics, which can be found in many places in the building. She was surprised to notice that members of the audience are allowed sit in the choir seats below the organ, very close to the performers, and that the supply of fresh, chilled or heated air was hidden behind the ceiling grate during the reconstruction. The princess emphasized that students who have the chance to study in such an impressive building are lucky indeed.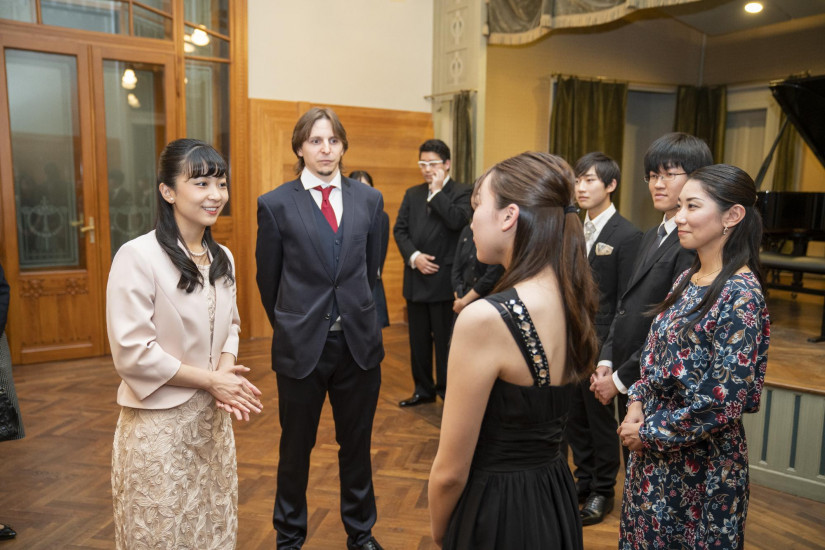 Princess Kako with students of the Liszt Academy of Music (photo: Academy of Music / Gábor Valuska)
Some Japanese students surprised the visiting princess with a mini-concert: as Gyula Fekete, Vice President for Research and International Affairs, said in his greeting speech, the majority of foreign students come from this Far Eastern country. After the concert, the princess greeted the Japanese students individually, and briefly talked to them about their experiences here.
At the end of her visit, she called it remarkable that students could not only learn their own musical instrument here, but also gain more general and broader musical knowledge, thanks to the teaching methods of the Academy of Music.