Publication containing works by Liszt and a portrait of the artist presented at the Liszt Museum
18 November 2021
A new publication – complete with a DVD - featuring unknown versions of Franz Liszt's works was presented at the Old Academy of Music on November 13. At the event, Alajos Landau's 1873 charcoal drawing of Liszt, purchased by the Liszt Museum Foundation in Vienna, was also unveiled.
For years, the stated mission of the Liszt Ferenc Memorial Museum and Research Centre of the Liszt Academy is to publicize rare and unpublished manuscripts that are in its ownership. As part of this calling, the institute presented a so-called digibook entitled "Unknown Versions of Franz Liszt's Works from the Archives of the Liszt Museum in Budapest" over the weekend. The publication consists of a DVD and a collection of studies. The value of the transcripts, which are largely unknown to the public, is boosted by the fact that they were either made by the author himself or approved by him after minor changes; thus, to some extent, each version can be considered an authentic part of the Liszt oeuvre. The works recorded on the DVD were performed by the professors of the Liszt Academy; one of the recordings is a live performance at the 2011 Bicentennial Festival, the rest of the material consists of concert hall recordings. The accompanying text provides information on the manuscripts and the artists in 4 languages.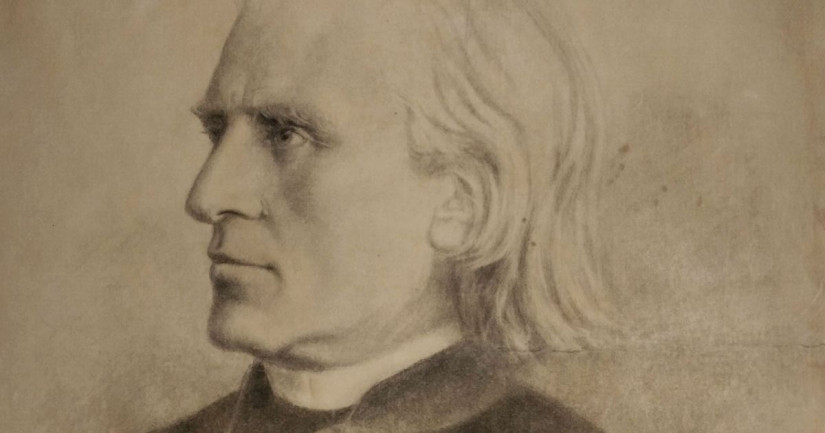 The portrait, featuring Liszt's original signature, was purchased by the Liszt Museum Foundation in September 2021 from Stefan Nebehay's Wiener Antiquariat in Vienna. The 68x59 centimetre charcoal drawing, signed Golo Landau, was made by Alajos Landau (1833-1884). The date inscribed on it is March 1873, Pest; the portrait has an outstanding importance for the Liszt Academy, as it was in February 1873 that the National Assembly voted to establish the institution, in which Liszt was to play a leading role. The portrait was presumably made for this occasion.
Born in Pest, Alajos Landau worked as an assistant teacher from 1852 alongside his father, who was a folk and urban drawing teacher. He then continued his studies at the Academy of Fine Arts in Vienna, and from 1859, he taught at a high school in Szeged. In 1871, he was sent by the Minister of Religion and Public Education to study drawing schools in Germany. After his return home, Landau worked as a drawing teacher in a district school in downtown Budapest from 1872. Later, as a member of various professional organizations, Landau was the main promoter of the 1875 National Drawing Exhibition. Between 1874 and 1876, he was head of the drawing department at the Teacher Training High School. From 1876 until his death, he worked at the Technical University as a private tutor.