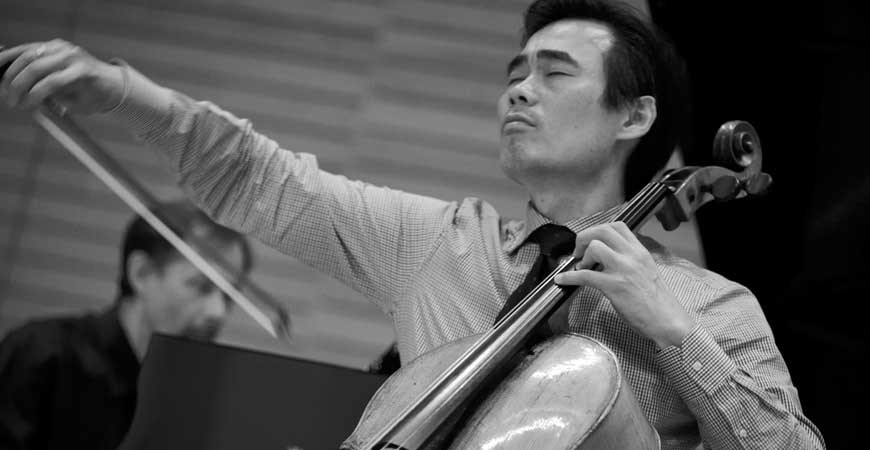 19 September 2018, 19.00-21.00
Solti Hall
YANG SUNG-WON & ENRICO PACE RECITAL
Liszt: Elegy No. 1 (transcription for cello and piano)
Liszt: Consolation No. 1 in E major (transcription for cello and piano)
Liszt: Consolation No. 4 in D-flat major (transcription for cello and piano)
Liszt: Romance oubliée (transcription for cello and piano)
Liszt: Consolation No. 6 in E major (transcription for cello and piano)
Liszt: La Lugubre gondola (transcription for cello and piano)
Liszt: Consolation No. 3 in E major (transcription for cello and piano)
Liszt: Die Zelle in Nonnenwerth (transcription for cello and piano)
Liszt: Cantique d'Amour
intermission
Chopin: Sonata for Cello and Piano in G minor, Op. 65
Chopin: Introduction and Polonaise in C major, Op. 3
Yang Sung-Won (cello), Enrico Pace (piano)
"Sung-Won Yang offered performances loaded with imagination, technical brilliance and pinpoint accuracy in intonation. Contours were skillfully shaped, scalar nuances were crafted with exquisite care and the whole rang with a resounding richness." - Washington Post
"It takes a player of Sung-Won Yang's technical brilliance and expressive boldness to make one feel The Kodaly's Solo Sonata's full grandeur." – Gramophone (U.K.)
South Korean Cellist Sung-Won Yang and Italian pianist Enrico Pace, who have been both acclaimed as a successful soloist and chamber musician, as well as a duo for their recording of complete works by Brahms/Schumann for cello and piano(2014, Universal/Decca), are presenting an evening with Liszt and Chopin.
Cellist Sung-Won Yang's debut album entirely devoted to Kodály was "the editor's choice of the month" Gramophone Magazine and "critic's choice of the year" Gramophone Magazine in the UK (2003). Since then, intelligence and originality of his interpretation and play have been world-widely praised by both the critics and the music fans, and have led him to appear on such prestigious venues as the Lincoln Center, the Salle Pleyel, the Théâtre des Champs-Élysées and the Royal Concertgebouw. Especially, his complete recording series of Kodály, Beethoven Sonatas/Variations, Brahms/Schumann for cello and piano, Bach's 6 suites for solo cello, Beethoven trios (either for EMI or Decca/Universal) received international recognition. Pianist Enrico Pace, who began his international career as a winner of the Utrecht International Franz Liszt Piano Competition in 1989, is one of the popular soloists and chamber musicians. He has performed with major orchestras such as the Royal Concertgebouw Orchestra, the Munich Philharmonic, The Bamberger Symphoniker and the BBC Philharmonic Orchestra. Pace enjoys on-going partnerships with violinists Leonidas Kavakos, Frank Peter Zimmermann and Liza Ferschtman.
Presented by
Korean Cultural Centre
Tickets:
Admission to the concert is free. Registration is required on the http://hungary.korean-culture.org website.