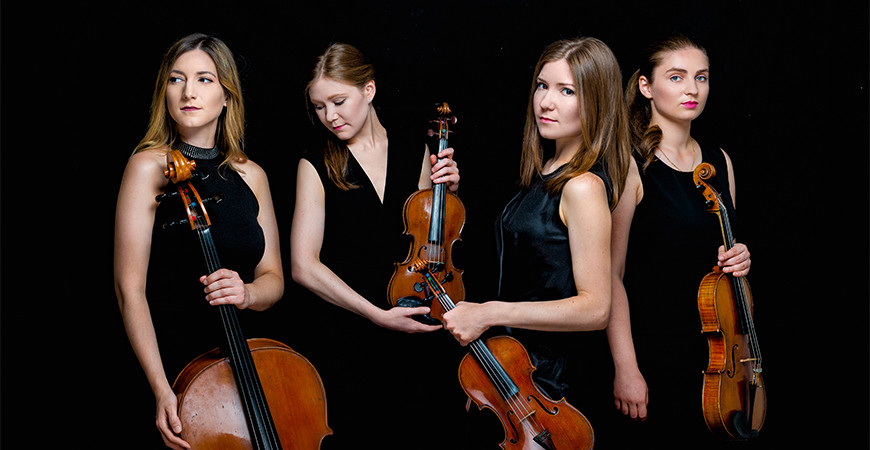 16 February 2020, 19.00-20.30
Solti Hall
Selini Quartet & Korossy String Quartet

Presented by Liszt Academy
Concert of ECMA (European Chamber Music Academy)
Program change
Performer change
Mendelssohn: String Quartet No. 6 in F minor, Op. 80
intermission
Bartók: String Quartet No.2, BB 75
Selini Quartet: Nadia Kalmykova, Ljuba Kalmykova (violin), Loredana Apetrei (viola), Loukia Loulaki (cello)
Korossy String Quartet: Csongor Korossy-Khayll, Kristóf Tóth (violin), Éva Osztrosits (viola), Gergely Devich (cello)
The Liszt Academy, an eminent workshop of 20th century chamber music traditions, also joined the European Chamber Music Academy (ECMA), which has been successfully operating for the past more than 15 years. The organization's goal is to introduce young formations. This concert also forms part of this initiative, in which a Vienna-based and a domestic string quartet each play a superb example of the Romantic quartet genre. ▪ The Selini Quartet, formed in Vienna in 2016 and made up of musicians of several nationalities, have achieved huge successes at festivals, competitions and prestigious concert venues. Between 2020-2022 they also enjoy a scholarship from the Austrian Ministry of Foreign Affairs. ▪ The Kruppa String Quartet, a participant of of the European Chamber Music Academy programme since 2018, were founded in 2012 by students of the Liszt Academy under the leadership of Bálint Kruppa; the formation has been assisted in its development by great artists such as András Keller, János Devich, Sándor Devich and Gábor Takács-Nagy, while the four young artists also participated in the masterclass of the world-famous Emerson Quartet.
Presented by
Liszt Academy Concert Centre
Tickets:
Admission to the concert is free. Tickets can be claimed at the Ticket Office of the Liszt Academy one month before the concert.