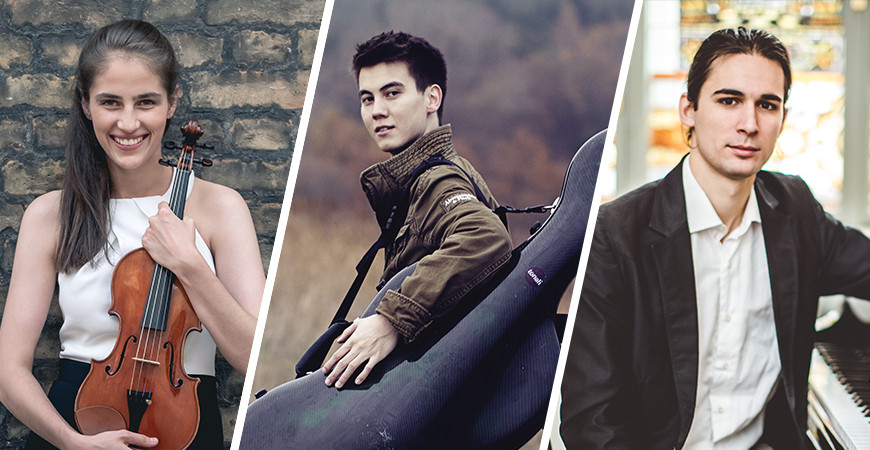 21 March 2020, 19.00-21.00
Solti Hall
Chamber Music, So Close
Júlia Pusker, Christoph Heesch & Marcell Szabó

Presented by Liszt Academy
Grieg Recital
Time change
Grieg: Piano Sonata in E minor, Op. 7
Grieg: Sonata for Violin and Piano No. 3 in C minor, Op. 45
Grieg: Sonata for Cello and Piano, Op. 36
Grieg: Andante con moto
Júlia Pusker (violin), Christoph Heesch (cello), Marcell Szabó (piano)
We tend to think of Edvard Grieg in terms of his orchestral works, songs and piano miniatures, whereas his chamber music oeuvre was narrow: a complete string quartet, three violin-piano sonatas and a cello sonata. Aside from these, he bequeathed to posterity merely a few salon works and two fragments, an unfinished string quartet and a solitary trio movement. Notwithstanding this, these few works are fine examples of his endeavour to weave Norwegian folk music characteristics into conventional compositional forms and styles. Three enormously gifted and ambitious young artists are tasked with performing these works that rarely feature on concert hall programmes. Júlia Pusker and Marcell Szabó attended the preparatory class of the Liszt Academy, then Pusker continued her studies at the Royal Academy of Music
 24-year-old, Berlin-born Christoph Heesch took classes from László Fenyő among others; he has played in top concert venues around the world and realizes his own musical meditations within the TONALi project.
Dear Audience,
We regret to inform you that the 21 March 2020 date of the Chamber Recital of Júlia Pusker, Christoph Heesch and Marcell Szabó has been changed! The concert will be held 22 September 2020 7:00 pm at the Solti Hall with the same programme! Tickets and season tickets purchased for 21 March 2020 are valid for 22 September 2020.
Thank you for your kind understanding!
Presented by
Liszt Academy Concert Centre
Tickets:
HUF 2 200, 3 200