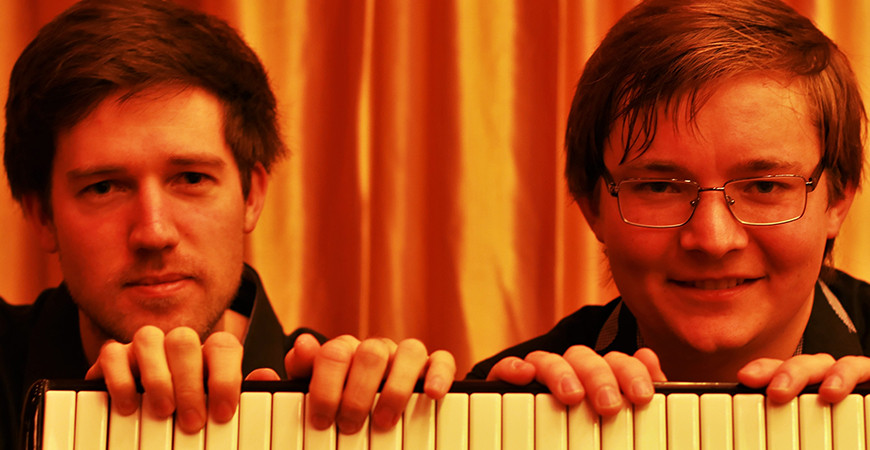 10 November 2020, 19.00-21.00
Solti Hall
Jazz it!
Mihály Demeniv & Áron Tálas

Presented by Liszt Academy
From tango to jazz
Cancelled
Richard Galliano: Opale Concerto – 2. Moderato malinconico, 3. Allegro energico
Áron Tálas: Lights 
Chick Corea: Windows
Franck Angelis: Romance
Franck Angelis: Chiquilin de Bachin
Piazzolla: Négy évszak Buenos Airesben – 4. Buenos Aires-i tél

INTERMISSION

Franck Angelis: Impasse – 2. Andante doloroso
Piazzolla: Aconcagua
Vladimir Zubitsky: Omaggio ad Astor Piazzolla
Eduard Akhanov: These Foolish Things
Mihály Demeniv (accordion), Áron Tálas (piano)
Since his birth, Mihály Demeniv has lived together with the instrument because his parents were accordionists themselves. He won an international competition in Uzhhorod (Ungvár) at the age of just eight and has gone on to take podium places in Italy, Slovakia and Bosnia. "The accordion has a soul, I would liken the different styles to languages: the more a person knows of them, the better able he is to express himself," says Demeniv, who won national fame in 2014 on the talent show Virtuózok. His repertoire includes Latin accordion music (Piazzola) as well as works by Bach and Liszt.
Áron Tálas is one of the most colourful and sought-after jazz musicians of Hungary's younger generation. He has performed in partnership with Dave Liebman, Nils Petter- Molvær, Ed Neumeister, Kuba Stankiewicz, Gyula Babos, Kornél Fekete-Kovács, Veronika Harcsa, Kátya Tompos and Erika Miklósa. Their joint concert is an unmissable moment for music lovers interested in the border zone between classical and jazz.
We would like to inform our audience that this concert is cancelled due to the travel restrictions in force. Thank you for your understanding!
Presented by
Liszt Academy Concert Centre
Tickets:
HUF 1 900, 2 900