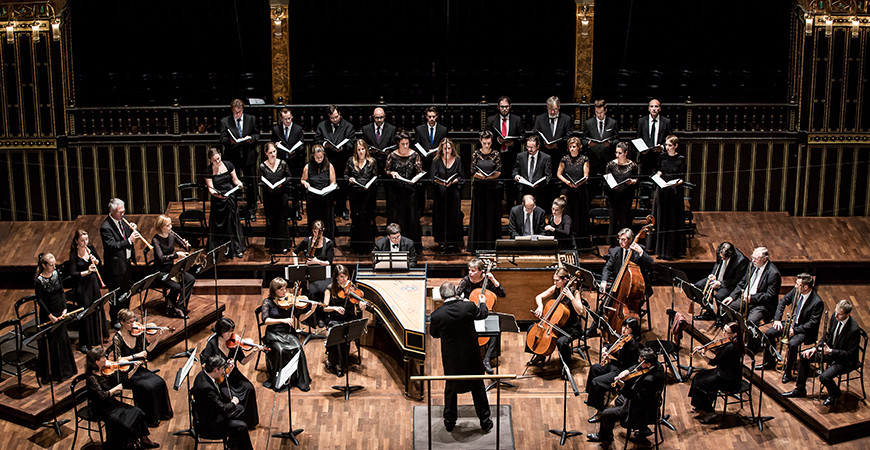 24 November 2020, 19.30-22.00
Grand Hall
Pure Baroque
Purcell Choir and Orfeo Orchestra

Presented by Liszt Academy
Gervais – Grand motets
Cancelled
Gervais: Judica me Deus
Gervais: Omnes gentes, plaudite manibus
Gervais: Exaudi Deus orationem meam

INTERMISSION

Gervais: O filii et filiae
Gervais: Usquequo Domine
Gervais: Te Deum laudamus
Olivia Doray, Ágnes Pintér (dessus), Mathias Vidal (haute-contre), Cyrille Dubois (heute-contre), David Witczak (basse-taille)
Purcell Choir, Orfeo Orchestra (concertmaster: László Paulik)
Conductor: György Vashegyi
Charles-Hubert Gervais (1671–1744) was one of the outstanding French composers of the early 18th century who were inspired by the intellectual trend "goûts réunis" (reunited / mixed taste), which sought to combine French and Italian musical styles. From 1722, when Louis XV returned to Versailles, Gervais was the second conductor of the Royal Chapel, and held this position until his death in 1744. Gervais's name is known to contemporary musicologists mainly as a church music composer: many of his short and long motets have survived, which he created for Paris or the court.
The grand motet, or "long motet", which features an orchestra, a choir and soloists, is an iconic genre of French Baroque. These large-scale psalm adaptations are not closely tied to the liturgy, they were often performed in secular venues, as was the case for the famous Concert Spirituel concert series in Paris, for example. For composers, however, it was considered the greatest honour to have their work performed in the Royal Chapel of Versailles.
These six great motets of Gervais are performed for the first time today since the 17-18th century. The modern sheet music edition was prepared specifically for this occasion by Ágnes Pintér with professional support by the Baroque Music Center in Versailles. The Purcell Choir and the Orfeo Orchestra, conducted by György Vashegyi, recorded Gervais's opera Hypermnestre in 2018, and these six major motets are now being recorded with world-famous soloists. The recordings are expected to be released in 2022 under Glossa Music.
Presented by
Liszt Academy Concert Centre
Tickets:
HUF 2 900, 4 300, 5 100, 5 900