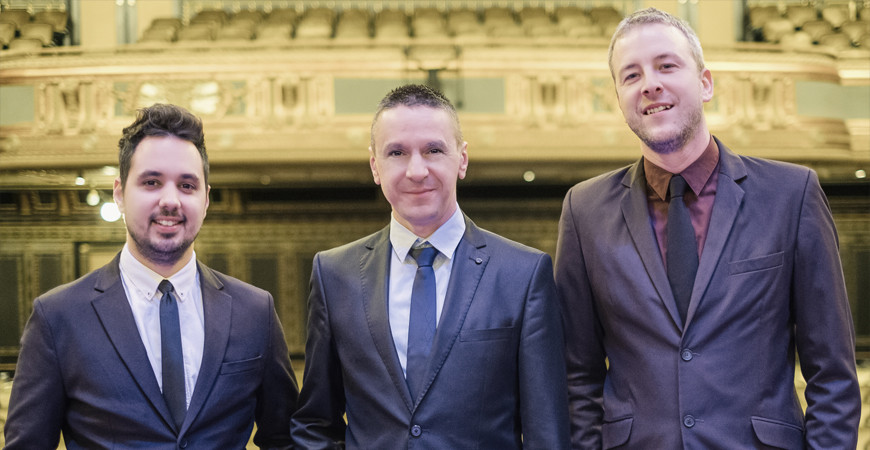 21 September 2018, 19.30-21.00
Grand Hall
PÉTER SÁRIK TRIO X BARTÓK
Jazz Arrangements of Bartók's Pieces
Jazz Arrangements of Bartók's Pieces
Péter Sárik (piano), Tibor Fonay (bass guitar, double bass), Attila Gálfi (percussion)
It's been nearly two decades since Péter Sárik burst into the firmament of Hungarian music life like a comet. His career since then has continued on its steep upward trajectory, as illustrated by the hugely popular concerts, the prizes and great recordings of his own trio, founded in 2007 and reorganized in 2012.
It's easy to fall under the spell of the music of the Sárik Trio. Their immaculate playing and a repertoire based on modern mainstream standards but which also spans a broad scale of genres is combined with what are certainly the formation's greatest virtues: an extraordinarily positive aura and sheer entertainment value. The trio's clear, experiential, smart yet welcoming music shapes into a fine listening experience for jazz buffs, the profession and even the average music fan just getting to grips with the genre. 
Material included in this evening's concert is a continuation of the concept of their hit album released in 2016 which processed works by Beethoven and which was also presented on stage at the Liszt Academy. However, this time around the music is not based on the Viennese master but the concert instead showcases pieces by Béla Bartók.
Presented by
Péter Sárik Production Ltd., Liszt Academy Concert Centre
Tickets:
HUF 1 400, 2 100, 3 500, 4 900, 5 600