"Mozart's music has a delicate texture – there is no greater challenge than that" Harmony between composer and performer: W. A. Mozart and Kristóf Baráti
22/06/2018
The intimate connection between composer and performer is shaping silently and invisible over the years and decades. Hard work and keen attention must be paid if a performer would like to show his/her personality and affection in a musical interpretation beyond the notes of a composition. The violin virtuoso Kristóf Baráti now tells about creating and experiencing harmony with Wolfgang Amadeus Mozart.
Harmony – with the composer and with the music. What are your thoughts about that?
In my interpretation, harmony means balance. To enjoy myself as a performer it's important to define what I would like to find in a musical composition and how I can reconcile it with my own disposition. I think, in our individualistic culture, the personality of the artist is coming more and more into prominence and the observance of the composers and compositions is less fashionable. Of course, there are exceptions: for example, the familiarity with classical style is more than essential in Mozart interpretations. However, the performer has to be careful: even the most accomplished musicologists can never know exactly how a musical composition was played in its own age. I don't think that musicians of our time should follow only the attitudes of those days. We can't turn the time back and ignore the 20th century repertoire behind us. We must consider all of this when we play Mozart.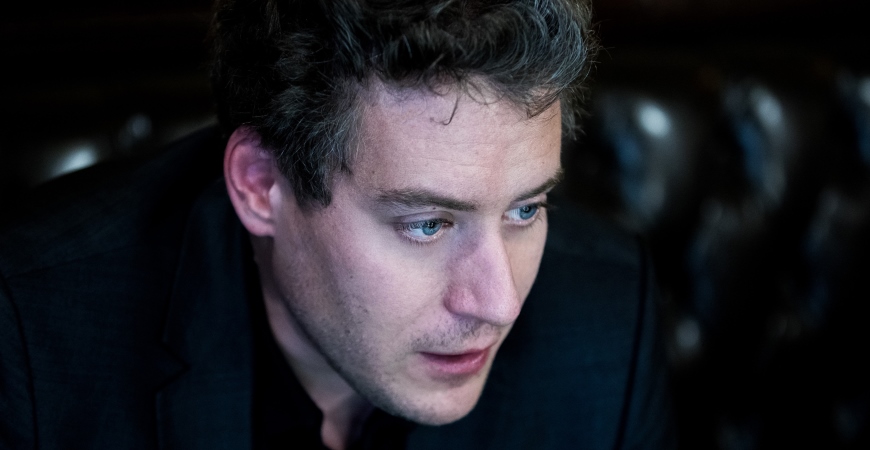 Kristóf Baráti (Photo: Liszt Academy / Zoltán Adrián)
In your opinion, what is the essence of contemporary performing arts? It is or is it not about its relation to the past ages?
I think the emotional and intellectual content found in musical compositions expresses human stories. Much has changed since the age of Mozart but our essential problems, our dramas and our feelings are the same. Music basically aims to influence these emotions. Finding the climaxes, reaching the bottom points: this is the ground where the concept of a performer can be built on.

In an interview in 2016 you described the performance of Mozart's concertos as "tempting fate" and a "mission almost impossible". Why did a musician, who is considered to be one of the most accomplished interpreters of Mozart's music in Hungary, say that?
Really? I didn't know that. Three years ago I performed the complete concertos of Mozart with the New Hungarian Chamber Orchestra at the Kodály Center in Pécs. There were two concerts and both of them were recorded. I used the words you quoted in your question in that context. Recording live performances is not common today, but I like these kind of challenges. The expression "mission almost impossible" referred to the intense and hard rehearsal period we had before the two concerts. On the other hand, to perform Mozart is always a challenge, because there are no weak points in his music. He creates music from simple material, but mixes the themes brilliantly and makes the connection of tunes invisible in a virtuosic manner. Composers of his time wrote music according to a strict framework. Mozart exceeded them and was extremely creative in mixing melodies: many times one does not even realize when a former subordinate melody becomes a theme. Mozart's music has a delicate texture, and it really seemed hopeless to sum up such a large amount of musical material in such a short time. I think there is no such a challenge in the whole European repertoire.
Overlooking your thirty-year career where do you think your personal relationship with Mozart began? And how did this relationship develop later?
As with all the composers, I got acquainted with Mozart as a child. I played the Violin concerto No. 3. and 5. at a relatively young age. These pieces are technically easier, but require such a level of instrumental knowledge and intonation techniques as a Sibelius concerto. Later it became more and more clear that I must come to know the operas in order to really understand Mozart's music. His most important works are not the violin concertos: his operas can't be surpassed. But as a violinist, I can't think of this, and I have to forget this hierarchy on stage.
Kristóf Baráti (Photo: Liszt Academy / Zoltán Adrián)
Can you mention a specific "Mozart experience" in your life when you came to know the composer better?
I remember the day when my mother took me to a performance of The Magic Flute although I was not mature enough to understand its symbolism. As in the case of great novels, the first encounter is not necessarily the most important one. At later stages of our life we understand them better and begin to ask the right questions about the specific work. The CD recording of the complete violin concertos was such a significant "Mozart experience" for me: after that, I sensed him differently and discovered other sides and paths of development in his music.
Do you consider it important to identify yourself with the composer? In what ways do you embrace the personality and musicality of Mozart?
Many times you are not aware of your own soul; I think it is impossible to slip into another skin. But in my opinion, music does not always reflect its author's state of mind. There are countless examples of how masterpieces were created in very different circumstances. How much I can identify myself with the composer's artistic and human side? It is two different questions. On the stage I look for my own associations and a full experience through them. But that can only be achieved if I let the music make me express emotions instead of planning ahead. It is not the question if it is easy or difficult to play a composition. The most important is to interpret music with all my soul. The performance of a composition is such an abstract task: the listeners can hardly empathize with the performer. Composing is a more abstract process. We, the performers admire the composers and wonder where their inspiration comes from. Just think about Mozart: it is almost incomprehensible how the music came to his mind.
What do you think gives the sensation of harmony in Mozart's music? Which are the key elements that define his style?
There are no tricks or certain attitudes that would help answer this question. Every musician has their concept when they go on stage. In my opinion, when one plays Mozart, the most important thing is to separate firmly the characters he imagined and to create contrast in his music. Playing Mozart colourless can be really painful – it's the death of his music. But it's a question of personal decision. You can't really specify how the music of Mozart has to be played. However, I would emphasize that one must show the operatic character in the concertos and also has to be aware of the nontrivial musical forms which distinguish Mozart from his contemporaries. If you find these details, you can show something new to the audience.
If you had lived in the time of Mozart and you had known each other, how would your relationship have looked like? Would the Maestro have dedicated concertos for you?
I would certainly go to the casino with him and persuade him to compose a violin concerto for me. He would probably set the bar high, and write quite a difficult piece of music. And I would be very curious to see the moment he puts his musical thoughts to paper. It wouldn't be more than twenty minutes. I would watch him, observing his state of mind, and I wonder if I would have a world with him. And I would be very curious to see if another Mozart would appear whom we are less familiar with.
Let's talk about the popular performance series of Liszt Ferenc Academy of Music called Complete Works Live. In 2018 you are headlining the series for the third time. What kind of experiences have you had, and what can the audience expect this year?
The Complete Works Live series are great occasions to go down the road together with the composer. First I performed the complete partitas of Bach, then came the complete sonatas for piano and violin by Beethoven with pianist Klára Würtz. This year the audience will enjoy hearing  Mozart's five violin concertos, three solo works for violin and the well-known Sinfonia Concertante in E-flat major with violist Máté Szűcs. After the CD recording in 2016, I told myself that I would rather not do that again for years, because it is a huge investment of time, energy and effort. Now I am here again, and I have a good reason for that. The rehearsal period will be exciting, because I haven't worked with the Prague Philharmonic yet. We have rehearsals right before the concert with Máté Szűcs who will be the guest soloist in the Sinfonia Concertante.  It will be a scant and intense rehearsal period, but I think of it as a challenge and as a new opportunity to come to know Mozart better.
Anna Unger