"Teaching is a fundamental layer of my life" – Interview with Prof Katalin Komlós
5/02/2018
The President of the Hungarian Academy of Sciences, Prof László Lovász has conferred upon the professor emerita of the Liszt Ferenc Academy of Music, Katalin Komlós the József Eötvös Wreath. She was awarded this prestigious accolade for her excellence in musicology, her exploration of the 18th century keyboard music and the research of its authentic interpretation on the keyboard instrument of the period, the fortepiano. Please read the interview below with the musicologist and fortepiano recitalist, Prof Katalin Komlós.
You are winner of numerous awards, among others, the Erkel and Széchenyi Prizes. What does this most recent accolade, the Eötvös Wreath mean to you? In retrospect, what career steps, events and accomplishments had led up to this illustrious recognition?
The Hungarian Academy of Sciences grant awards acknowledging entire oeuvres. Only few of us are performing artists as well as scholars, which I consider a privilege and a great fortune. I started off as a music historian, as I graduated in musicology from the Liszt Academy as the student of such outstanding academics as Bence Szabolcsi, Dénes Bartha or Lajos Bárdos. It was a magnificent time. Although I have a degree in musicology, I have been playing the piano quite seriously since my childhood. In fact, for a while I was preparing to study the piano at the Liszt Academy, but then things took a different turn. A bit later, I got to know the fortepiano, the period of instrument of Haydn and Mozart's era. As I had always been keen on the music of the Classical Period, I was immediately captured by this keyboard instrument. From 1980, I pursued my postgraduate studies in the United States, where I was exploring the secrets of the fortepiano under the guidance of Malcolm Bilson while earning a PhD in musicology at Cornell University. Following my return to Hungary, I started giving fortepiano concerts, which I carried on for at least 25 years. Some years ago, I stopped, but teaching and stage performance complemented one another perfectly in my life for many years. I was very happy about the prize, as it is granted for accomplishments in Hungarian scholarship, and I was glad that my work was again taken note of.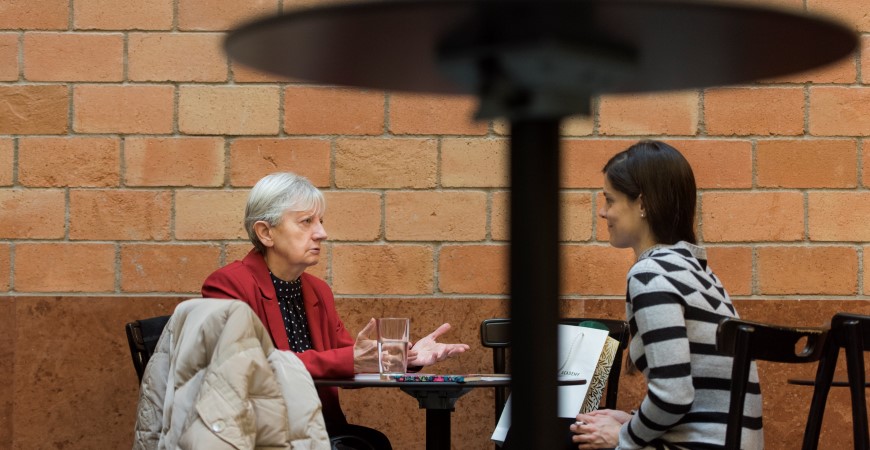 Photo: Liszt Academy / István Fazekas
Your main research area is 18th century keyboard instruments and their history. Several fortepiano-related writings of yours have been published. Strangely, though, you have never taught fortepiano performance at the Liszt Academy but classes in the history of music theory. What experiences have you made as an academic?
I have been teaching music theory at the Liszt Ferenc Academy of Music for forty-five years; I am virtually indigenous to this institution. Teaching is a fundamental layer of my life, which is nourished both by scholarship and stage work. Initially, I was active at the Department of Musicology as a colleague of György Kroó's, but later I was transferred to the Music Theory Department, where I was immediately appointed head. This involved great responsibility, a lot of paperwork and many difficulties. I liked it, but I wasn't sorry to finish, because I could then again focus more intensely on music. I am especially grateful for having the opportunity to work with harmony. This doesn't necessarily mean that every piece of music is harmonious, but I believe that the harmony we strive for in connection with ourselves and others is expressed best by Mozart or Schubert's music.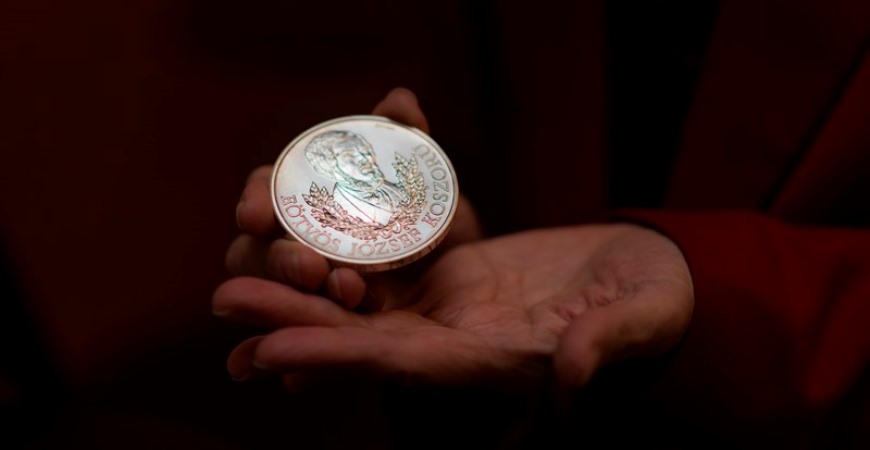 The Eötvös Wreath. Photo: Liszt Academy / István Fazekas
You have had great achievements also as an educator and guided the PhD studies of such artists as Balázs Fülei or Soma Dinyés.  Both your former and current students have spoken with overwhelming enthusiasm about your personality and work. What do you regard as the ultimate goal of your teaching activity, how would you formulate your "creed"?
I am quite strict with my students. Nevertheless, what I find most crucial is that music ought to give a sense of achievement to all at their own personal level; my pupils shouldn't perceive it as a bitter pill to swallow. My attitude towards people, towards my students is closely connected to the example of my parents. Fortunately, I inherited miraculous personality traits from them, which enable me to love nearly everyone, which is absolutely essential in teaching. It is at least as pivotal as its professional part. I sometimes meet my former students, who won't say: "We have learned so much from you", instead they will say "You liked us so much". This is what stayed in their memory, this is what they mention first. Or they recall how we once sang excerpts from Mozart's Requiem in class. It wasn't a grand performance, but it was ours, and its memory has stayed with us to this day. I believe that it is music, musical experience that should be in the centre of everything, so that we find joy in it.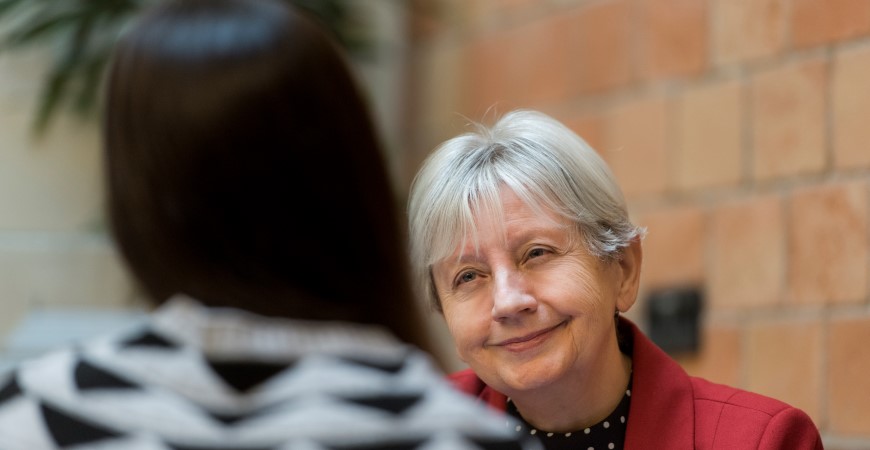 Photo: Liszt Academy / István Fazekas

"It was in 2000, when I met Katalin Komlós first. She had invited Gábor Eckhardt's pupils from the Bartók Secondary School of Music. To this day, I have clung to the photo that was taken of us then. That encounter became unforgettable and opened an entirely new world before me. In 2012, I asked her to be my advisor in my PhD work. I had to give a thorough presentation of the planned topic of my dissertation – the cadenzas in Mozart, Haydn and Beethoven's piano concertos, then I answered her related questions, and only then did she act as my advisor. This was a great honour for me. She was exceedingly strict and absolutely meticulous. I checked my writings five times beforehand before I dared to show them to her.  Then I decided to take a risk: I would finish the thesis first and would show her only the complete work. She put trust in me, which I am very grateful for, as then she saw the entire concept, she filtered out my essay-writing tendencies and pointed with great accuracy and a steady hand at the elements which are not fit to be used in an academic piece of writing. I have learned and still learn a great many things from her. I find it a great compliment that she has attended many of my recitals in Budapest. Her written reviews, which invariably arrive two-three hours after the concert, I hold on to, just like the photo from 2000." (Balázs Fülei, pianist, senior lecturer, head of the Chamber Music Department)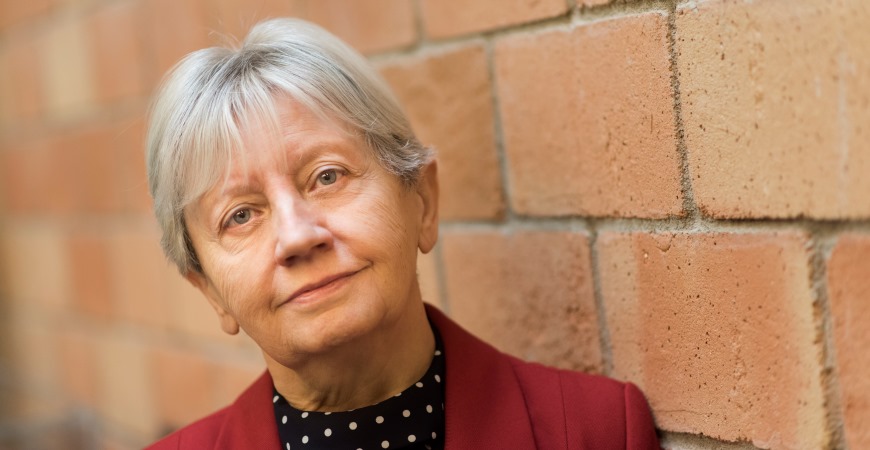 Photo: Liszt Academy / István Fazekas
A. U.
Tags